It's been awhile since I've done a Five on Friday. Last day of the month (essentially!).
1. If you follow me on instagram you may have seen a photo or two from my time in Orlando at the Zumba Instructor Convention. It's literally taken me two weeks to recover from all the chatting, dancing, shaking, and grooving but I'm revitalized to take on this fall season! (that last photo is me with my closest 7000+ friends at the largest Zumba fitness concerts – we worked it hard for two hours straight!)


2. Talking about fall, the teasers of cooler weather in the mornings/evenings, the smells in the air, make me think what on earth has happened to summer?!?! It's still August and there have been several times jackets have been pulled out. Though I can't lie – I'm anxious for pumpkin muffins, hearty stews, sitting by the fire (okay who am I kidding, we don't have a fire place, but imagine with me people!!!), leaves changing and so many gorgeous family sessions!
3. I've been on a bit of a reading kick (that seems to happen regularly during the summers, even though things don't slow down around here!!). Have you read any good books lately? My TBR pile is growing every so largely due to my inability to request books at the library in an order that allows me time to enjoy them. Seriously do you see this pile?!?! You can also see what I've read and view my ratings on goodreads.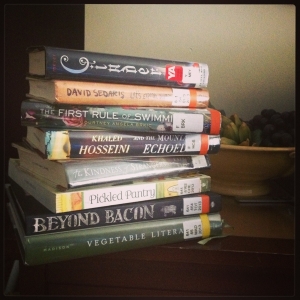 4. Candy Crush. Pretty much all I have to say. How many of you are addicted?!?! I'm fairly competitive by nature and I have this internal struggle of "beating" my mom to the top. Right now I'm "winning" (pretty much this happens in my mind only!) and now have to not-so-patiently wait for them to update the game again. Yep, that's right, I'm all the way at the top. Addiction I tell you.
5. NOW is the time to book your fall photo session. My schedule is filling up fast and I may not be able to take last minute requests! Email me now to reserve your date!