It's been a long two weeks since Sandy barreled her way up the coast and made landfall in New Jersey. Luckily for us our electricity was restored last Sunday evening around 5:30 (approx. 6 days in the dark). The minute it came on, people were dancing by the grills, screaming in the hallways, jumping for joy. The first thing Anthony did was get the vacuum out. Who knew how nasty our place could get in one week without electricity. I had to mop right after as some liquid spilled out of the freezer and made the entire kitchen sticky! I am eternally grateful to multiple different crews from Ameren, an Illinois based electrical company, that restored power not only to us but so many others in the Mercer County area and greater Jersey.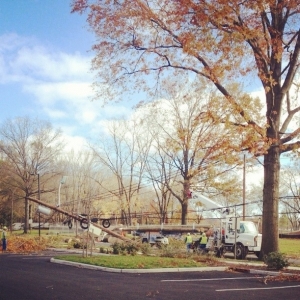 While the shore and other parts of the coast have been utterly devastated, I'm a strong believer in helping local as well. HomeFront is a non-profit agency in Central New Jersey with a host of programs to break the cycle of poverty, both for parents and their children. They saw an increase in families needing help right after Sandy hit. They too lost electricity and much of the food they had in freezers. If you can help in any way, I know they will be grateful.
This coming Thursday, November 15, at Small World Coffee there will be a benefit concert in conjunction with Restore Our Shore. Hear some great music, enjoy some wonderful coffee (from what I hear anyways, I'm not a fan of coffee!), and donate to a great cause.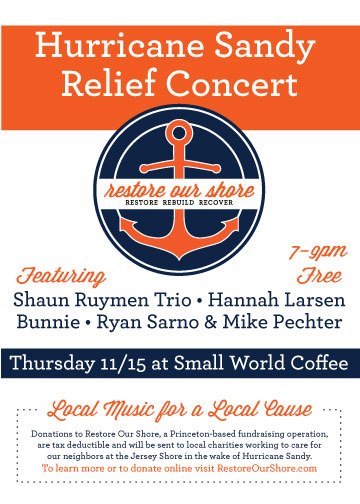 When Anthony and I made the decision to move to New Jersey while he pursued his PhD, I remember everyone's reactions once we told them our decision – "why would you move there?" This was before all the shows about Jersey began to air (Jersey Shore, Real Housewives, etc.), which means the majority of their opinions were based on it being the northeast, not the crazies on TV! I had my doubts as well, though 5 years later I think that's crazy and now am proud to call Jersey home. I'm proud of this state, for weathering Sandy with resilience and vowing to rebuild, even when the Red Cross and other disaster relief companies weren't here. People have come together despite all the negativity in this world. Neighbors are helping neighbors. Chris Christie has been a huge advocate for this state, he began preparing the minute the weather people said Sandy would be coming up the northeast corridor, calling in backup electrical companies, evacuating shore towns, talking with the President, and more. It's a vast difference between how New Jersey is handing what happened and New York. I think we owe it to our governor and the preparedness of our state. This is one proud Jerseyan here!