Happy 2012!!! I hope each and every one of you had a wonderful holiday! Anthony + I are fortunate enough to get close to two weeks away during Christmas and we take full advantage every year (though a photographer friend of mine spent two weeks in the French Polynesian with her husbands family – that would have be glorious!!!). We loaded up the suitcases, drove our tails to Philly to hop on a plane, got off in Oklahoma City to rush to the annual family sing-along! You know the Mitch Miller Christmas album? Yep, that's the one we sing along with, we even have the old-style song sheet, album, and sleigh bells. It's the perfect holiday tradition started back when my dad was a youngster.
We got to celebrate Randon's 5th birthday on the 18th. As luck would have it, I was charging my camera batteries before we left for the bowling alley, I grabbed my camera and it was dead by the time I got it out. Luckily the iPhone 4S saved the day and I was still able to capture the moment! And of course we only had a #4 from Randon's birthday last year. It didn't matter one bit to him (though it may give him a complex later on in life!), he blew it out and little Rylan thought it was his turn. He has to wait another few weeks (January 14th) before it's all about him!!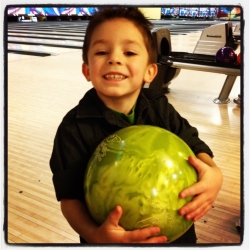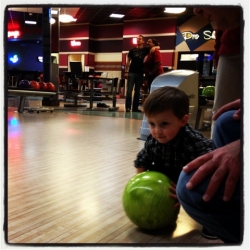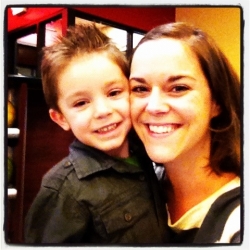 We spent Christmas morning with my family and got to share in the excitement with the boys. Randon started per-kindergarten this year and is really into coloring and art. My parents got him the famous IKEA art easel. Can you tell what his favorite color is? I think they are going to need to invest in more blue paint, chalk and markers. He won't have anything to do with any other color.









We have been very fortunate the past three years to see the OKC Thunder play during the holidays! This year we really lucked out!!! We went Christmas day, opening night!! The atmosphere was electric, we were half court 7 rows up, really the perfect seats to see Kevin Durant throw down on the Orlando Magic. THUNDER UP!













I will get a post up very soon with the rest of the photos I took, including a family session with a good friend of mine!