*I decided to take a break from facebook last Monday and I'm so glad I did. I ended up having to log in twice to remove myself from emails because I was being bombarded but I got off immediately after doing that. You know how much extra time I've had in that weeks time? I think I'll slowly make my way back on there, but I'm determined to not let it suck all the time out of my day again!
*Anthony and I finished watching Season 4 of Dexter last week – can we say holy smokes?!?!?! Anthony was a nervous-wreck the entire time we were watching around the last half of the season. Sucks that we have to wait until the middle of August before Season 5 comes out on DVD – the suspense!!!!!
*Since summer TV is sucking right now, we started watching Weeds. I figured we'll make our way through all the Showtime original series before the end of the summer! I've never smoked anything in my life, but Saturday night as we were making our way through three of the episodes I started getting the munchies! Nothing could satisfy my cravings – maybe it was a combination of needing something nutritious and the psychological aspect of watching the show!
*We went into New Hope on Friday night to watch the FREE weekly fireworks but they ended up being cancelled because of the crappy weather that threatened earlier in the day. Luckily, the trip wasn't ruined because we had awesome company, incredible food at Havana, and yummy gelato at Bucks County Cluster's Caramel Corn.
*The sewing machine got a workout last week as I was finishing up a baby shower gift. I also found one tutorial on pinterest which lead me to a blog that has a brilliant tutorial on folding your fabric in a nice, neat way. I spent hours doing this to all my fabric and it looks so awesome in the closet now!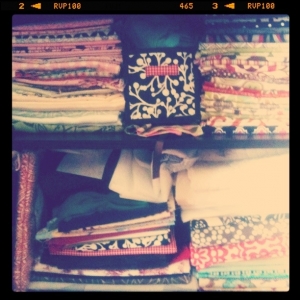 *The garden is looking awesome!! Just picked our first yellow squash of the season, and I've started to see tomatoes growing. I love knowing that almost all of our veggies came from a seed that I planted, watered, and babied to get to this point (forget the fact that the sun does most of the work!!)
*I've been making my way through The Green Beauty Guide and it has been eye-opening! I seriously have so many dog-ears on this thing (and it's a library book – sorry for all those who come after me, I promise I haven't marked up anything else!). The thing I love most about the book is she rates products on a 3 leaf system (example: she lists out three different facial toners the best with a 3 leaf beside it) as well as gives homemade recipes too.
*I taught a Zumba class (side note: I'm now licensed to teach Zumba Basic which is what most people think of when they think Zumba!!) to a group of high school and college-age camp counselors on Saturday. It was rejuvenating for me, even if half of them didn't want anything to do with it. I will be going back in July to teach 3 days of electives of ZumbAtomic (for kiddos) at the same camp in Ewing. I know it's going to be a blast!
*I've been meaning to get my hair trimmed for weeks (possibly months) but I didn't want to spend the money to get it cut. Wednesday morning after my shower I decided to trim it myself. One thing lead to another and I ended up taking over 2 inches off. When Anthony got home he was shocked that it "didn't look bad!" Thanks for the confidence honey!
Some iPhone photos over the past few weeks starting with a photo taken across the Hudson River before a surprise anniversary party I photographed and photos from our short weekend trip to Coney Island (stayed in Staten Island for my Zumba Basic training) followed by a smorgasbord of other things including using a macro lens for my iPhone to get my ring shot + our adventures in New Hope on Friday.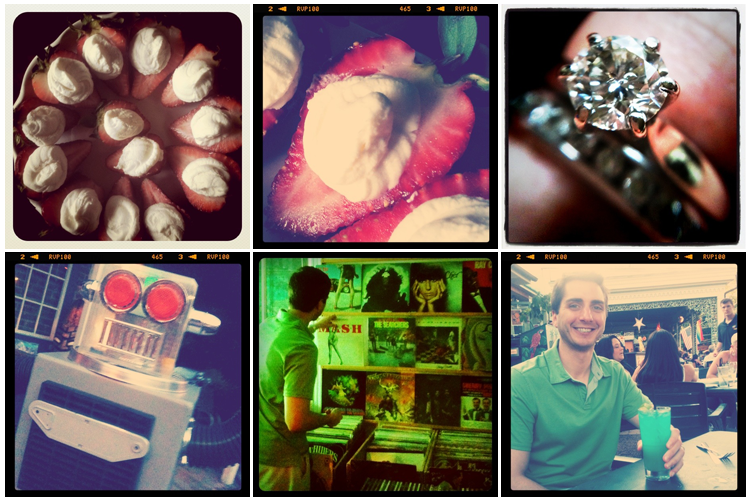 Keep checking back – I have several sessions to blog including an adorable newborn with her big sister from this morning!