1. It's June and I'm just not ready for that at all. It means that summer is here, it means that the year is almost half way through, it means fresh local veggies all the time, it means HOT HOT HOT, it means vacations and family get togethers. This year is going to be a challenge on the last one because Anthony + I are not going to be in Oklahoma at the same time. Some work has come up that has me missing Anthony's 10 year class reunion. Since he was class president we figured he should go without me this time around. I'm very sadden by this but there just was no way around it!
2. For the first time two weeks ago, Anthony + I shot our first event together at Princeton University's chapel for the seminary's commencement exercises. It was fun to have him there by my side, although I think he'd tell you differently. For a man who hasn't really taken many photos with one of my cameras, he rocked it on semi-auto (aperture-priority mode that is)! You can view the majority of the photos here.
3. Last year some time my awesome mother-in-law Vicki learned to needlepoint. She has made pillows, foot stools, and I'm not even sure what else. Her Christmas present to us was going to be a pillow. She completed her part, dropped it off at the store to be mailed to the pillow-maker (you see where this is going???), and it turned up missing. The store owner couldn't find it, the pillow-maker couldn't find it. It was g.o.n.e., gone! The hours, the hard work, the thread, everything. Vicki, as sweet and kind as she is, forgave them all and began working diligently on another design for me. My birthday present – it's absolutely beautiful!! When I get my own craft/office space, this pillow will proudly be displayed in there.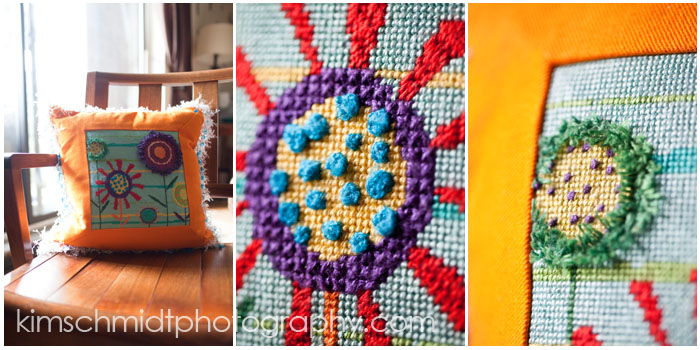 4. After watching Maria Menounos on The Nate Show a few weeks ago promoting her new book The Everygirl's Guide to Life, I knew I wanted to glance at it (thank you public libraries for being AWESOME and having it!!). The first chapter is about organizing which I love to do myself! It then got me on this kick about purging stuff that I truly don't need (which is pretty much 90% of our home…). This will be a work in progress, I'm giving myself until January which is most likely when we'll be moving into the new seminary apartments, but getting rid of 3 huge bags of crap from our bedroom is totally freeing. And to give myself credit, I've been slowing giving away our stuff over the years to the Vietnam Vets (they come to your house and PICK it up for you!!!!!), but reading that book gave me that final kick. No more moving crap from place to place that I'll never use/wear/etc. Spring cleaning at it's finest!
5. While purging, I came across a handful of my CD collection. This lead me to copy them into my iTunes and now I've gotta figure out what to do with the actual CDs. I don't want them anymore and I'm not even sure they are worth anything. Anthony thinks I'm crazy to want to get rid of them, which lead us to a conversation about backing up our online music collection and other documents/files/etc. on our computers. I realized that I do a lot of backing up of my stuff (hello client photos!!!!) but Anthony doesn't really have a system. Time to get an external hard drive for him!!!
Leaving you all on a flower! Have a wonderful weekend!