Last week I went on a huge baking spree as I hosted our final book club for the school year. Maybe I shouldn't share my "secret" recipes…but they are below for you!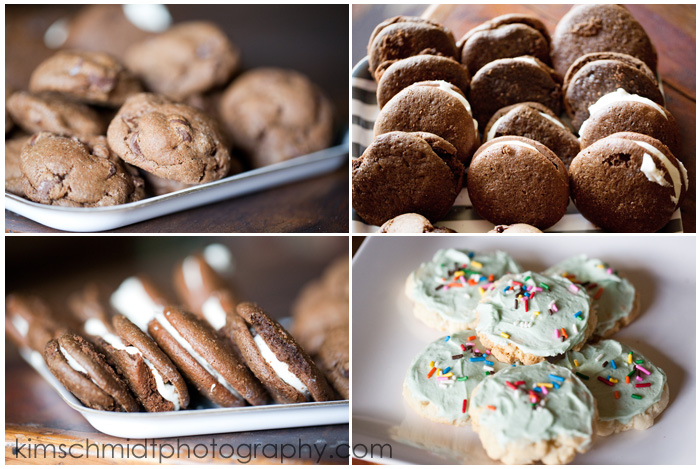 First up are the double chocolate chip cookies (first photo on the left) adapted from Real Simple. Looks like lots of people had mixed reviews on these, but I've never had issues with them. We end up baking them all and then putting them in a zip top bag in the freezer. Pull out one or two when you want a cookie, warm it up in the microwave for 15-20 seconds! I'm not sure how long you should keep in the freezer as they are typically gone within 2 weeks.
Ingredients
1/2 cup unsalted butter, at room temperature
1/2 cup granulated sugar
1/2 cup brown sugar
1 large egg
1 teaspoon pure vanilla extract
1 1/2 cups all-purpose flour
1/4 cup unsweetened cocoa powder
1/2 teaspoon baking soda
1/2 teaspoon baking powder
1/2 teaspoon salt
1/2 cup milk-chocolate chips
Directions
Cream the butter and both sugars in a large bowl with an electric mixer on high speed.
Lower to medium speed and add the egg and vanilla.
Sift together the flour, cocoa, baking soda, baking powder, and salt.
On low speed, add the dry mixture to the butter mixture. Beat until fully incorporated. Fold in the chocolate chips.
At this time, I put it in the refrigerator overnight to chill (cover). When I'm ready to bake in the morning, I pull container out of the frig, and turn oven to 350 degrees. The dough will be tough to manipulate, give yourself about 10 minutes before handling but not much longer.
Form the dough into approximately 1 1/2-inch balls. Place on parchment- or foil-lined baking sheets, 2 inches apart.
Bake until the centers are just set, about 12 minutes. Let cool on sheets for 5 minutes, then transfer to wire racks. (as you can see from my photo, mine do not spread much at all).
Homemade Oreos (or a version of Whoopie Pies) (second/third photo)
Adapted from Pen and Paper Flowers
I've stopped buying store-bought cake mixes, so coming up with a comparable mix recipe was a challenge on these (hence why they turned into more Whoopie Pie than Oreo!). I did a search for devil's food cake recipes and took bits & pieces of them all. This will need more work on my end!
Lofthouse Frosted Cookie (last photo w/greenish frosting)
Adapted from Noshings on Tasty Kitchen
Another recipe that called for a store-bought cake mix. It didn't turn out the way I would want, so I'm not going to share my exact recipe yet! You can visit the above link to get the recipe. I didn't add shortening/Crisco to the frosting either and that was perfectly fine (I actually halved the frosting recipe as I knew I didn't have enough cookies for a full batch so I did the full amount of butter and omitted shortening.). Overall they were yummy cookies!