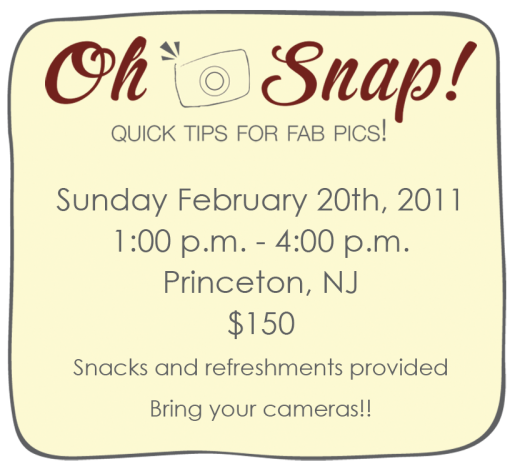 Oh Snap! is a workshop that teaches parents how to take better pictures of their kids. It focuses on concepts you can easily put into practice, just by understanding lighting, composition, perspective and age appropriate techniques. Participants will walk away with an incredible presentation manual that includes cheat sheets and quick tips for common situations which will help them improve their photos immediately… just by taking the time to assess light, change up their angle, and remember a few quick tips.
Topics include:
* training your eye to find the light,
* composition and perspective,
* lens and focal length selection,
* review of exposure,
* auto and semi-manual settings.
This is not open to professional photographers or those hoping to start a business.
This is SOLD OUT!
Email me to get on the waitlist for the next workshop!
The details:
* this can be purchased as a gift for a loved one – just make sure they are available on the 20th
* no refunds – it may be transferred to someone else or used at a different time
* should have a camera (doesn't have to be an dSLR, but it does need to be able to change to a manual mode of some sort – if you are confused, email me with your camera details)
*be prepared to learn a ton of information!
To see photos of the last workshop, click here!