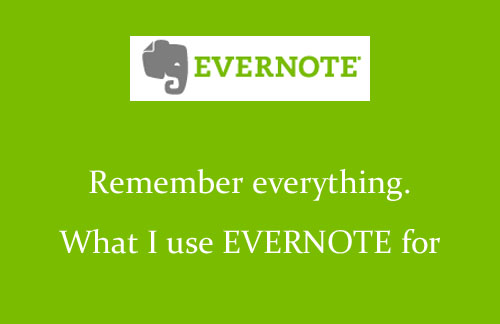 Today marks my one year anniversary with Evernote (and no I'm not one to normally celebrate instances like this one, but I randomly discovered this weekend that my anniversary was coming up!). I felt that all my readers needed to know about them if you didn't know already!
Evernote's tag line is remember everything. Can I get an amen?!?! AMEN!! I don't have to remember everything – this program does it all for me!
Only a few years old, the developers and geniuses behind this concept have revolutionized how the world takes notes, keeps track of their to-do lists, and more. This program can be used on the web, on your mac, on your PC, on your mobile, on your iPad, really wherever! It's constantly open on my computer, I have it installed on my iPhone and iPad, as well as my work computer. I even have the web clipping elephant in my toolbar, so I can easily clip articles and save pretty much any content from the web.
You can set up different notebooks to house different information. As you can see below, I have one for Anthony (clothing sizes, gift ideas, etc.), a few sewing ones, a Zumba one, a personal one, etc. I have a Premium account, which allows me to have "parent" folders and then sub-folders underneath. To make it easier when I'm on my iPhone or iPad, I named each sub-folder the same title with a more in-depth title on the end. At this time, on mobile devices, there aren't parent folders, hence why I have similar names. This allows me to find what I'm looking for a little easier (especially when I'm looking for recipes!)


Most of my "being green" notes are notes from books I've checked out from the library. I like having all the information in one place, as I'm reading through the books, I will have evernote open (either on my computer or iPad) and put in the details I want to remember. Just a bit ago my husband mentioned how thankful he is that I've been doing my research and typing the info into evernote. Even he could potentially access all of this information.
Some of my favorites that I created are my recipe notebooks and tutorial notebook. What is fabulous about the recipe notebooks is I'm able to visit a cooking site, copy the information I want, use the web clipper (elephant in the upper right hand corner), paste it into evernote and then tag or set the URL. I then have all the recipes at my finger tips. There have been many times I'm at the grocery store not 100% on an ingredient, pull out my phone and open the evernote iPhone app, search and there it is! I'm also being green and not printing out recipes.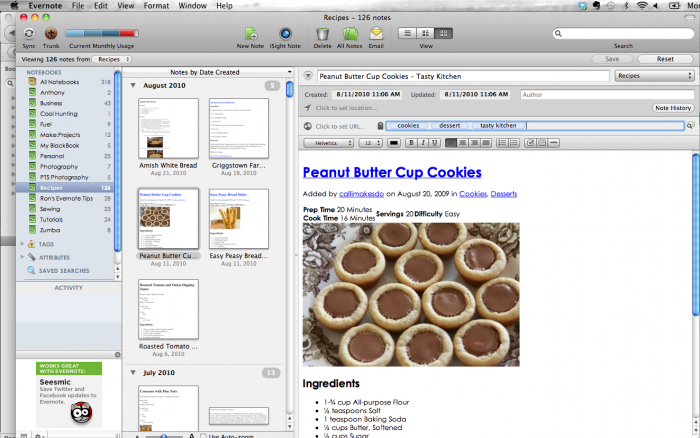 I do the exact same thing with tutorials I found, whether they are photography related, party related (I'm a little obsessed with Hostess with the Mostess blog), or whatever it is. I save anything sewing related for those subfolders only but it's the same principle.
How to actually clip something from the web: I highly recommend installing the web clipping elephant, this will allow you to clip immediately from the webpage. I'm on a Mac and I have no idea where it's located on a PC (sorry!), but for me it's in the upper right hand corner. After I copy the content I like from the web, I click the Elephant, and Paste to Evernote. It may take it a minute (depending on if you have Evernote open or how large the photos and content is), but an Evernote window will pop up asking you what Notebook you'd like the note to go. Then you can close the window and it saves the note. Very easy!!!


Evernote also has a tips blog and several photographers tell how they use it for their business. But you don't have to be a photographer or a business owner to use this program. I highly recommend it to each of you – I challenge you to start using this tool to help remember everything for you!