You can view my Earth Day post from last year. An update this year…
We still recycle everything that can be recycled in our area.
We continue to use cloth napkins. Our neighbors always laugh when we bring them out for our weekly cookouts.
I continue to use reusable shopping bags.
I have acquired even more Kleen Klanteens – I think I have a small obsession with them.
We have started to buy our food locally this year. We watched Food Inc., I've read both Animal, Vegetable, Miracle and Eating Animals and my eyes are now very much open. We as consumers have the right to know what is in our food, but big businesses are not allowing it to be made known. We as consumers have the power to change that by choosing to eat locally and support local businesses. I am becoming very passionate about this.
For my birthday Anthony got me the Shark Deluxe Steam Pocket Mop. I asked for it because our floors are disgusting and I hate mopping. I'm in heaven! I've had it for two days and I've steam mopped the floors twice. This is cutting down on water use (I use about 8 ounces of water for our entire place) and the pads are washable. ETA: I've had several people ask about using these on hardwood floors. We have crappy (seriously very crappy) parquet flooring and I'm not worried about ruining them (Our apartment is set to be torn down next year – that says a lot!). I did some research and there was mixed feelings about using them on hardwood. My mom has a different Shark model and hasn't had any issues on her hardwood floors. If you do get it, I recommend getting it from BBB, using the 20% off coupon that is always in the mail, and if you have issues you can take it back. You can always try it on a small spot that isn't noticeable to see if it works.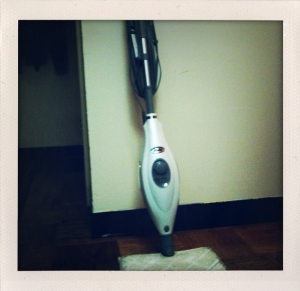 We need to be aware of what we do to our Earth. Leave a comment with what you are doing. I always love to hear them!