While making the weekly dinner menu, I came across this recipe in Giada De Laurentiis' Everday Pasta. Oh my it was delicious!  I highly recommend you try it out.  Its very hearty and perfect on the cold, yucky evening we had last night.
Start out with the olive oil, shallots, carrots and pancetta. Make sure you get the pancetta crispy.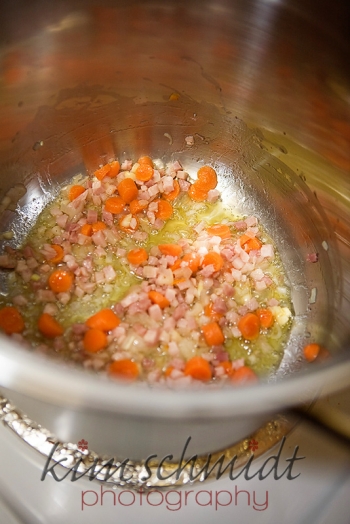 All the ingredients are in (minus the swiss chard) and it is almost done (took 20 minutes at the most from start to finish).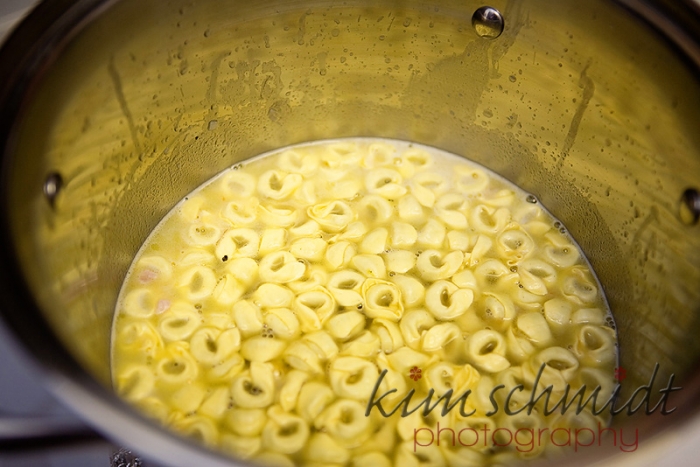 Look at that hearty bowl of soup! It made for great leftovers for lunch today also.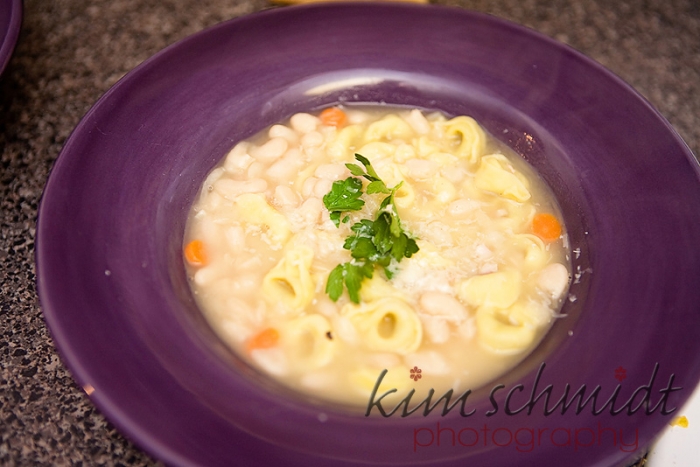 Italian White Bean, Pancetta, and Tortellini Soup
3 tablespoons olive oil
4 ounces pancetta, chopped
3 large shallots, chopped
1 carrot, peeled and chopped
2 garlic cloves, chopped
1-15 ounce can cannellini beans, rinsed and drained
4 cups of Swiss chard, chopped (1 bunch)
6 cups chicken broth
1 (9 ounce) package cheese tortellini, fresh or frozen
1/4 teaspoon freshly ground black pepper
In a large soup pot, heat the olive oil over medium-high heat. Add the pancetta, shallots, and carrot and cook until the vegetables are soft and the pancetta is crisp, about 15 minutes. Add the garlic, beans, chicken broth and bring up to a boil over high heat. Throw in the Swiss chard and let it wilt, about 3 minutes.
Add the tortellini and reduce the heat to a simmer. Cook until the tortellini are tender, about 8 minutes. Taste for seasoning and add salt and pepper if needed.
I eliminated the swiss chard and added parsley at the end. I made my own white beans the morning of in the crock pot and added the bag spinach & cheese tortellini that is found in the pasta aisle of most grocery stores.  I hope you try this recipe out on a cold day.