This picture makes me so happy. Saturday I asked Anthony to stand by the window so I could test out my 50mm 1.8 lens. I've had it since April of last year and haven't really played around with it. When I finally did back at Thanksgiving I was highly disappointed that my pictures weren't tack sharp on it. Made me want to cry. So I finally gave it another shot with great lighting and a handsome subject. Anthony wasn't ready for this picture to be taken, but it was my favorite out of the whole bunch. And I did get a soft copy of that stinkin' lens, as none of them are tack sharp. BOO!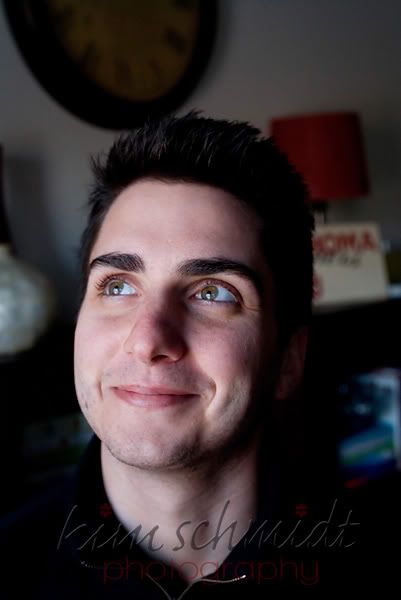 This picture evokes a lot of emotions from me. I always smile when I see it because its Anthony in a nutshell. He's not a huge smiler or when he is its the huge cheesy grins. I personally think its the best picture I've ever seen of him (okay there's a few when he was a wee one that are irresistible). The end of 2006 was a hard time for us relationship wise. He stuck in when I was ready to crack. He never gave up on me when I felt I had given up on myself. After many months of sitting on our sofa, having many heart-to-hearts, many cry fests, me getting incredibly angry and selfish, Anthony was there. He was (and still is) the rock in this marriage and I am so thankful for him. God blessed me with this amazing man, and it took me almost losing him to finally wake up to that realization.
As I sit here with tears in my eyes, I want everyone who reads my blog to see my handsome, well deserving husband. He recently was accepted to the Princeton Seminary for the fall. Its a full paid scholarship. I am incredibly proud of you Anthony for not stopping on your dream to get your PhD. As you already know, I'm scared, intimidated, excited, and at the same time wanting to be selfish as our journey may take us away from Nashville and to start afresh in Princeton, New Jersey. I really am scared to leave all things comforting, the friends and connections we've made, and the life I feel we've made here. With time I will come to accept our future destination. Please be patient with me and know that I am your number 1 supporter!
This is a post dedicated to you and all of my love!